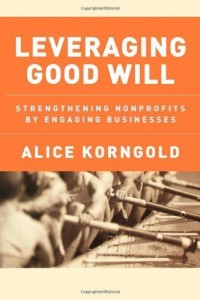 "Leveraging Good Will: Strengthening Nonprofits by Engaging Businesses," Alice Korngold's first book, published in 2005
Thousands of business executives serve on boards of nonprofit organizations around the globe. Although they give of their time and energy – are they really making the most of this opportunity? Are they creating the best value for the nonprofit they serve, the corporation they represent, and the community?
In Leveraging Good Will, Alice Korngold shows how businesses can develop tomorrow's leaders by having their executives properly matched, trained, and coached for board service.
The win for businesses: The company makes a truly meaningful contribution, while their executives engage in vital leadership skills, such as visioning, thinking strategically, persuading, advocating, building consensus, negotiating, inspiring, and mentoring.
Korngold also shows nonprofits how to attract the most talented business people to their boards, and then focus their attention on key strategic and financial issues.
The win for nonprofits: Higher functioning boards that will elevate organizations to their greater vision and potential.
The global win: A far more vital nonprofit sector that provides essential health and human services, education and cultural enrichment for millions of people of all ages and backgrounds.
The win for individuals: Personal, professional, and leadership development and satisfaction. Korngold is a consultant to corporations and nonprofit boards. She has trained and placed over 1,000 business executives on 275 nonprofit boards.